Why You Need to Consider Chiropractic for Low Back Pain Treatment
Why You Need to Consider Chiropractic for Low Back Pain Treatment
Written By North Florida Spine and Wellness Institute on June 28, 2019
---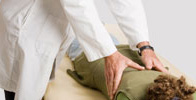 There are few pains that are as crippling as low back pain. It can put you up for weeks and throw a major wrench into your everyday life.
With chiropractic care from North Florida Spine and Wellness in Tallahassee, you can receive treatment for your low back pain that's as efficient as it is noninvasive.
Here's everything you need to know about low back pain treatment with chiropractic.
What Can You Expect From Chiropractic Treatment?
Primary chiropractic treatment is based around the realignment of the spine. Realignment is achieved through physical manipulation of the back.
In addition to traditional chiropractic treatment, there's also massage therapy, which has its own unique benefits. It can reduce pain and relieve stress by manipulating the body's soft tissues.
Why is Chiropractic a Great Option for Low Back Pain Treatment?
When the spine is correctly aligned, the body is in the ideal position for self-healing. Therefore, not only does chiropractic reduce pain and increase mobility, but it helps with pain prevention.
Chiropractic also happens to be an entirely natural treatment, which sets it apart from most other options. With chiropractic, you can bypass the pain of surgery and the side-effects of drugs.
It also addresses the fundamental cause of low back pain, rather than silencing the surface-level symptoms.
Get Your Low Back Pain Treatment in Tallahassee
It's not hard to find a treatment for low back pain, but it is hard to find a treatment that's gentle and effective.
With chiropractic, you can ensure that you receive low back pain treatment that gets to the root of your pain, all without the invasiveness of surgery or unwanted effects of drugs.
Are you considering chiropractic for your low back pain? Give us a call (850-877-6790) at North Florida Spine and Wellness to make an appointment. We'll see that your low back pain becomes a thing of the past, and stays that way.

Posted In: Chiropractic Back Pain